G14 globe lights are a popular choice for specialty and restoration lighting projects. A 130-volt filament allows the G14 globe light bulbs to last longer when operated at 120 volts. Many antique and imported light fixtures can benefit from this European base bulb. Bathrooms, bedrooms, living rooms, dining rooms, kitchens, lobbies, corridors, stained-glass hallways, stairwells, pendant fixtures, ceiling fans, bathroom vanities, and lamps. It is a good alternative to incandescent bulbs.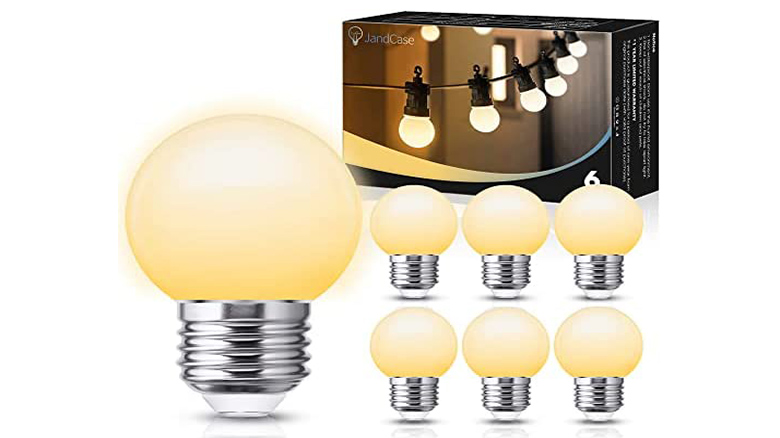 What Are the Specifications of G14 Bulb?
The G14 light bulbs provide long-lasting performance, superb energy efficiency, and brightness. It is perfect for hard-to-reach and frequently left-on sockets in your home, as it illuminates your house with a crisp white tone.
Ideal for bistro lights, large tents, decorative wedding lights, cords, chandeliers, pendant lamps, patio lights, parties, decks, backyards, and cafes. A warm, soft white light with a color temperature of 3000 Kelvin.
Specifications of the G14 Bulb:
This small G14 (G45) globe candelabra light bulb is an excellent addition to your home. The G14 ball shape candelabra light bulb is decorative for many general uses in the living room, bedrooms, etc. It is used for ceiling fans, chandeliers, vanity mirrors, pendants, wall sconces, and desk lamps. Featuring high-quality LEDs, this light bulb provides a wide 240° beam angle. Below is a chart showing G14 bulb specifications.
| | | | |
| --- | --- | --- | --- |
| Wattage Equivalency | 40W | Lifetime | 15,000 Hours |
| Wattage | 5W | Color Temperature | 2700K, 3000K, 4000K, 5000K |
| Voltage | 120V | Efficiency | 90LM/W |
| Moisture Rating | Damp | Bulb Base | E12 |
| Material | Aluminum, | Polycarbonate | Certifications |
| Lumens | 450LM | Operating Temperature | 4°F-104°F |
| Dimmable | Non-Dimmable | Switching Cycles | 30,000 |
| Beam Angle | 180° | Warranty | 5-Year |
Important Notes: Incandescent lamps use 40W of power to produce the same amount of light, but LED bulbs use 5W. That's an 88% power savings! The annual energy costs are just $0.6 per kW, based on a three-hour daily average and an average price of eleven dollars per kW.
The Benefits of The G14 Bulb:
Easy To Install: Suitable for lanterns and applications where the globe can be viewed directly, this G14 globe shape bulb with an E26 base fits into all medium screw base fixtures.
Shatterproof & Weatherproof: The 220-degree beam angle of the bulb's plastic housing makes it shatterproof, durable, and safer than glass bulbs. Besides extreme temperatures, it is also resistant to rain, wind, snow, and damp conditions.
Save Energy: By switching to LEDs, you can reduce your energy consumption by up to 88%. With a longer lifespan than traditional bulbs (halogen, incandescent, fluorescent), Sunco's G14 LEDs are a sustainable choice.
Applications: LED bulbs with an Edison screw base (E12) are ideal for vanities, chandeliers, and pendant ceiling fixtures in bathrooms, kitchens, and anywhere else in your home. They are also suitable for decorative accent lights and small desk lamps with E12 sockets.
What Is The Equivalent of a G14 LED Globe Bulb?
Globe LED bulbs, equivalent to 25W incandescent bulbs. As a result, you can save on your electricity bill. Save over 80% on lighting electricity bills by replacing 25W incandescent bulbs with 3W LED bulbs and reducing relamping frequency. Over 30000 hours of life expectancy. Avoid frequent bulb changes and maintenance costs. G14 LED bulb with Edison screw base.
Frequently Asked Questions
How Do G14 LED Bulbs Work?
A G4 bulb has two pins separated by 4mm and is a low-voltage bulb. Their delicate style makes them perfect for decorative living room or bedroom fixtures. They are available in various color temperatures to create the ideal lighting scene.
How Big Is A G14 Bulb?
G14 globe light bulbs measure under 2 inches in diameter and are famous for specialty and restoration lighting. Bulb filaments operate at 130 volts when operated at 120 volts.
What Does G Mean on A Bulb?
The letter "G" stands for Globe Bulbs. There are many different sizes and shapes available. Kitchen lights, ornamental fixtures, chandeliers, and foyer lights are just some of the applications for which they are suitable. There are several bulbs, but the G14 is the most common.
Conclusion
With the multipurpose G14LED10 LED Filament light bulbs, you can brighten up your home or business with a warm, white light. In addition to offering 300 lumens, the 2700K bulb can replace a standard 40-watt bulb. A typical life expectancy is 15,000 hours. Five-year warranties are included with the energy-efficient bulbs.
The tiny g14 light bulb creates a pleasant atmosphere and reduces glare and shadows. It is ideal for fan lights, bedroom lights, night lights, vanity lights, weddings, light strings, chandeliers, pendant lamps, and garden decorations.